"Good healthy food doesn't have to be boring"
Alain Coumont, Founder
Our story begins in Ghent, Belgium, known as the vegetarian capital of Europe. In September 2015, Alain and his partners opened a plant-based organic food and natural wine bar in a reinvented 19th-century styled pharmacy. Four months later, our first US store opened its doors in the Upper East Side Of New York City.
Today, Le Botaniste offers its botanical prescriptions in three locations in Belgium (one in Ghent and two in Brussels) and four locations in New York City (the Upper East Side, Soho, the Upper West Side, and 43rd and 3rd). 
Our mission is to provide pure, plant-powered organic meals that are good for your body and the planet. Our approach is knowledgeable, playful, and engaging. We offer a unique opportunity to experience a different way of eating vegetables and discover new flavors and textures. 
A creative and colorful menu shows that organic plant-based food can lead to surprising, healthy and mindful new eating experiences. We believe in an upgraded fast casual dining experience in beautiful light-filled spaces dedicated to organic plant-based food and natural wines.
Our reinvented pharmacies are welcoming spaces where a solo diner is comfortable and where friends can meet and share a bite or a drink.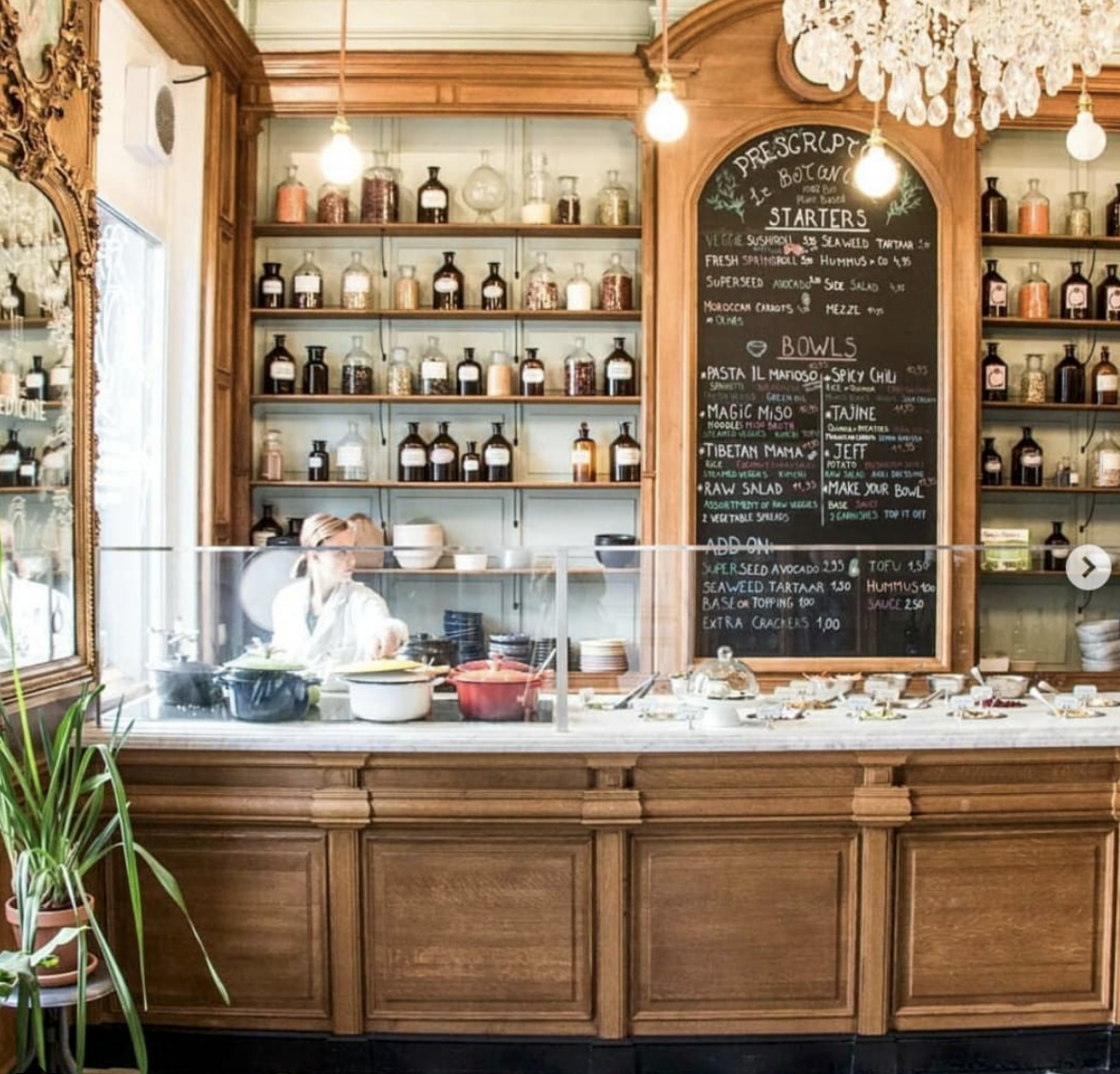 Plants are a wonderful source of numerous flavors with high nutritional values. Yet for years, even as interest in healthful eating has grown, plants have been the diner's consolation prize. We want to surprise our guests with delicious, satisfying, pure, plant-powered organic meals that are good for your body but also sustainable for our planet. 
Vegetables never go out of style and we believe they should be front and center in our plates. #bringtheplantback has been our motto since day one and today, more than ever we stand by it proudly! 
Le Botaniste makes eating vegetables easier, more convenient and more enjoyable than ever. We took on the challenge to replace fast-food standards with a healthy food model based on accessibility and practicality. 
Le Botaniste your #beautysalonforyourinsides
"Food is preventive medicine, and natural wine fermented grape juice"
Alain Coumont, Founder
Whether you're a flexitarian, vegetarian, vegan or a conscious foodie, we all know that putting more plants on our plates is good for our bodies and the planet. Our aim is to make conscious, daily plant consumption surprising, tasty and utterly enjoyable.
We are 99% organic, 100% plant-based, gluten-free friendly, and we serve only natural wines — helping you bring back more plants, vitamins, and nutrients into your diet and helping keep your body energized and healthy while protecting our planet.
"Lead by example"
Laurent Francois, Co-founder & CEO
Our restaurant concept, and how we manage our locations every day, prove that being healthy, clean, green, organic, certified C02-neutral and plant-based is not only possible, but successful. But our guiding principles can make sense only if they benefit everyone and are sustainable for the environment.
By finding ways to become more sustainable as a business, we hope to inspire and better our communities and industry — leading to a greener world and allowing humans and the planet to not only survive but thrive.
"We are bettering the world one bowl at the time — better for you, better for the planet" 
Christophe Coffinet, COO & Partner
We can never say it enough: plant-based organic eating is good for our planet.
From day one, we at Le Botaniste knew that we wanted to live up to that promise in every way. We generate as little waste as possible and are constantly asking ourselves how to become more sustainable. In 2016 we partnered with CO2logic® to reduce our energy use to a minimum, and to offset 100% of our greenhouse gas emissions by supporting a Gold Standard certified climate project in Ghana that distributes efficient cookstoves.

On World Tree day 2021, we started to plant the Le Botaniste Forest, in partnership with GoForest! Our goal is to plant trees with an impact: capture carbon, fight climate change, restore biodiversity and work with local communities.

We're giving our customers the opportunity to "add" a tree to their meals, grow our forest together and allow us to go beyond CO2 neutrality — inspire and build more sustainability awareness.

On key environmental dates, Le Botaniste will match guests donations with an extra tree per tree donated to kick start our forest. We're planting a tree for each member of our company. This initiative could not be more aligned with our values and efforts for sustainable development.
Learn more about our commitments to sustainability every Friday on our Instagram, and about how you can do better too!

"It's all about bowls"
Gregory Verellen, Co-founder & CDO
Le Botaniste's menu offers a selection of "prescription" bowls: plant-powered and freshly cooked meals, served to stay in Japanese ceramic bowls, to go in eco-friendly ware, or delivered to your door.
Each bowl comes with a base (from gluten-free grains to salad mix), a warm topping or a cold dip, fresh herbs and garnishes like fermented or raw veggies, superseeds and dressings — all for a perfectly balanced and nutritional meal. You also have the option to create your own bowl, using our DIY cards. Discover our menu here.
Le Botaniste also caters and hosts your events.
"Vino Therhappy: Natural wine is fermented grape juice"
At Le Botaniste we serve a finely curated range of natural wines.
Our wine bar offers a selection of wines from around the world that are 100% natural (and of course organic). No added sulfites, sugar or yeasts; just fermented grape juice! We choose each wine for its unique profile and offer a rotating selection of up to ten wines.

These may vary from one restaurant to another, so it's a good reason to visit all our locations!