"Good healthy food doesn't have to be boring" Alain Coumont, Le Botaniste Founder
Le Botaniste is the only organic, plant-based, and carbon-neutral restaurant in New York City.
Alain Coumont, our founder, is a globetrotter. During his travels, he would often miss places to eat good, simple, organic, plant-based food. In fact, anyone looking to find a convenient plant-based meal outside their own kitchen was in for a challenge. Years before the trend, he started dreaming of opening a 100% plant-based, organic restaurant and began experimenting with innovative, flavorful recipes.
His goal was to surprise guests with delicious, satisfying, plant-powered organic meals that are good for the body and sustainable for our planet—and this was the inspiration for Le Botaniste.
"I've always been conscious of how our diets affect our health and environment," says Alain. "Le Botaniste grew from a desire to offer a health-focused, eco-friendly, organic menu that is above all else delicious."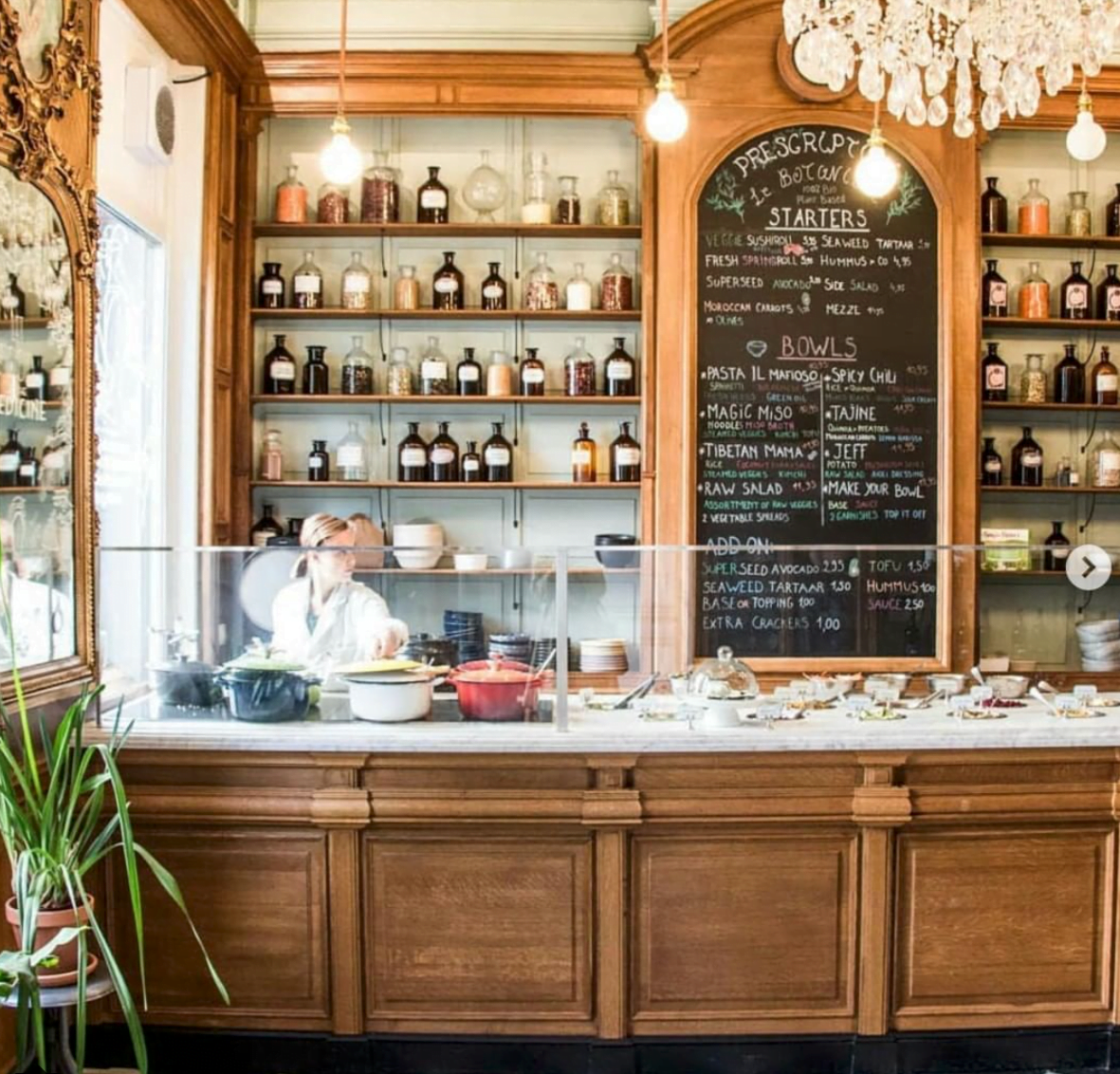 Our story begins in Ghent, Belgium, celebrated for nearly two decades as a vegetarian haven in Europe. The city is actively implementing measures to reach a goal of 100% carbon neutrality by 2050. Thursdays are known locally as Donderdag Veggiedag, or "Thursday Veggie Day," and each week, up to half the population enjoys vegetarian or vegan meals, home cooking, or plant-based food delivery.
Inspired by Ghent's thriving dining scene and the healthy eating it encourages, Alain and his partners opened the first Le Botaniste location there in September of 2015. They filled the organic vegan restaurant and natural wine bar with food-themed original art, 19th century apothecary-inspired accents, and lush indoor plants to encourage a sense of vitality. Four months later, they opened a second location on New York City's Upper East Side, expanding the concept of quick, healthy, easy-going and comforting food, focused on quality, freshness, and local traceable ingredients. These core elements have allowed the team to consistently adapt and encourage smarter and healthier consumption.
Today, the Le Botaniste team serves its beloved organic food in three locations in Belgium—one in Ghent, two in Brussels—and five locations in New York City: Upper East Side, Upper West Side, Soho, Bryant Park and Midtown East. We also offer plant-based catering for all kinds of events, large and small.
Discover our signature apothecary-style spaces inspired by the original location: Rustic shelves and antique pharmacy bottles with vintage labels, white marble counters, abundant bowls of fresh vegetables, colorful enamel cast-iron pots, original art, and our iconic wallpaper patterned with plant leaves in honor of our greatest inspiration. Complete with a cheerful, fun international playlist, Le Botaniste is the perfect environment for a casual date night, weekend celebrations, or quick lunches. Order your bowl and watch as it's lovingly prepared at our long marble veggie bar—a unique design developed just for us that showcases the ingredients we prep throughout the day for maximum freshness.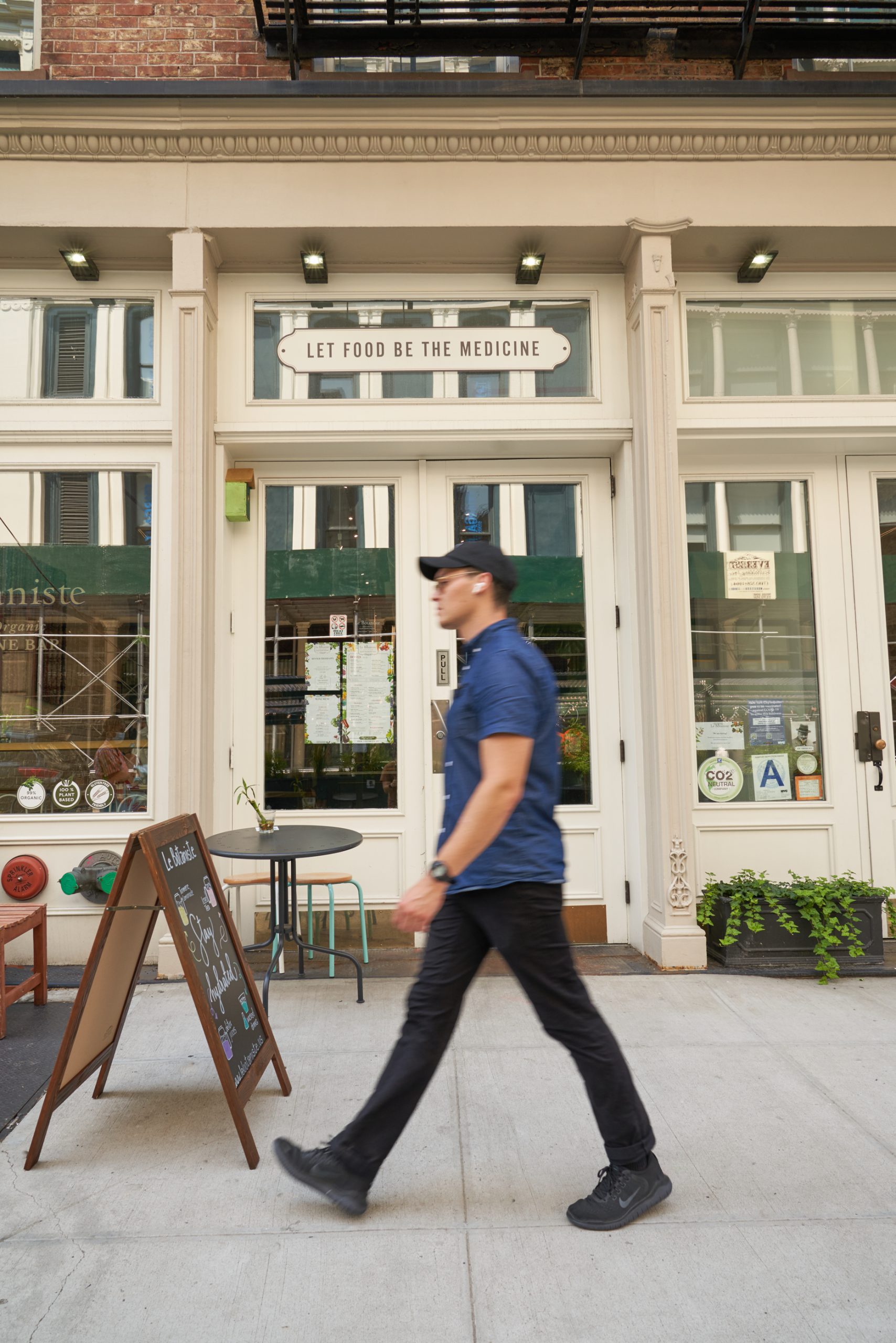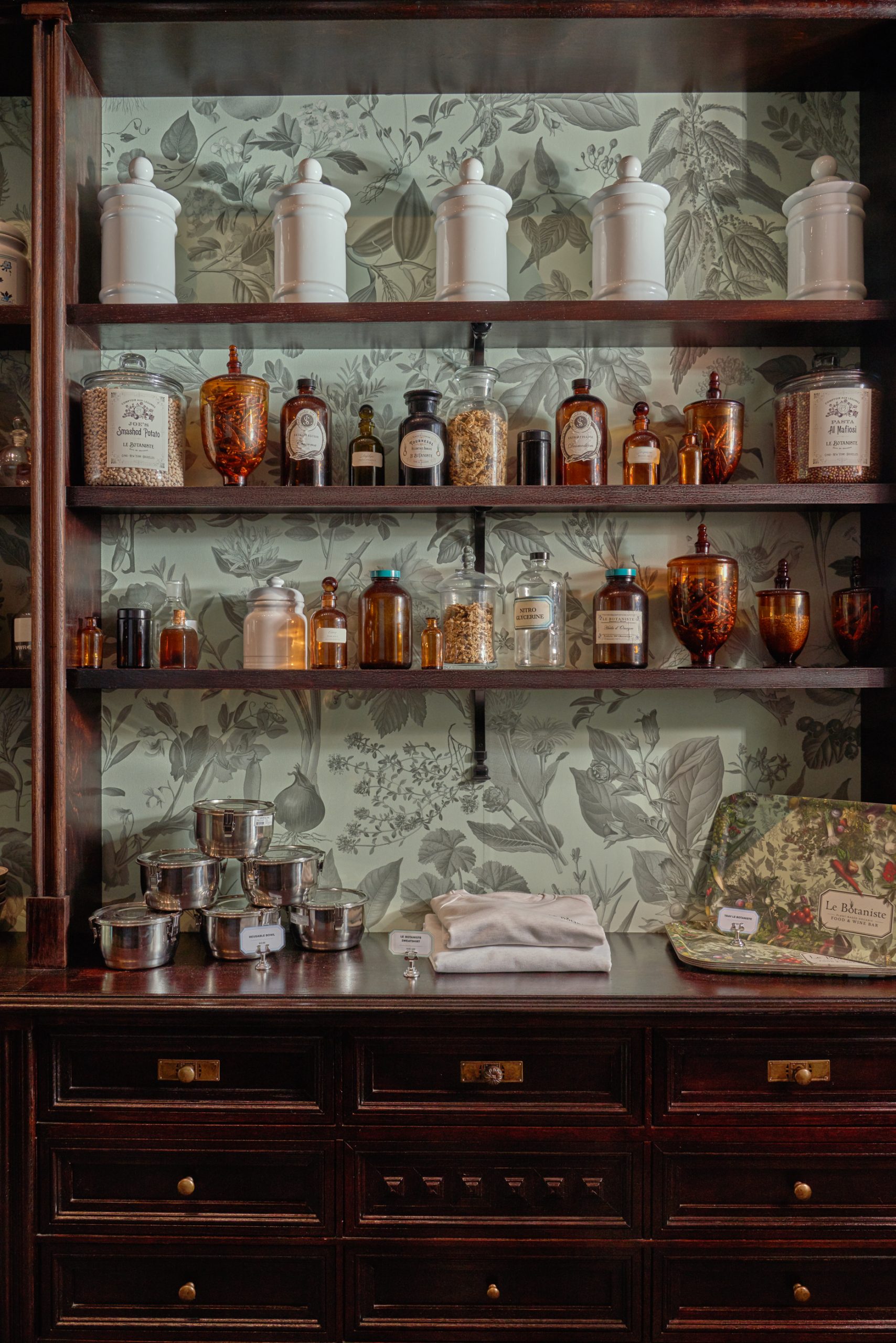 "Food is preventive medicine, and natural wine fermented grape juice" 

The best vegan food is made from clean recipes with care. We take every opportunity to offer diners innovative, unexpected, and delicious ways of eating vegetables in an upgraded fast casual restaurant, where a solo diner is comfortable and where friends can meet to share a bite. We're always cultivating new approaches toward our ingredients' flavors and textures.The aesthetic theme that runs through each location reinforces our values of food as a path to wellness, and our team takes great pride in serving our "botanical prescriptions," because they're good for your body and the planet. Let food be the medicine—here the mindfulness regimen is so easy to follow!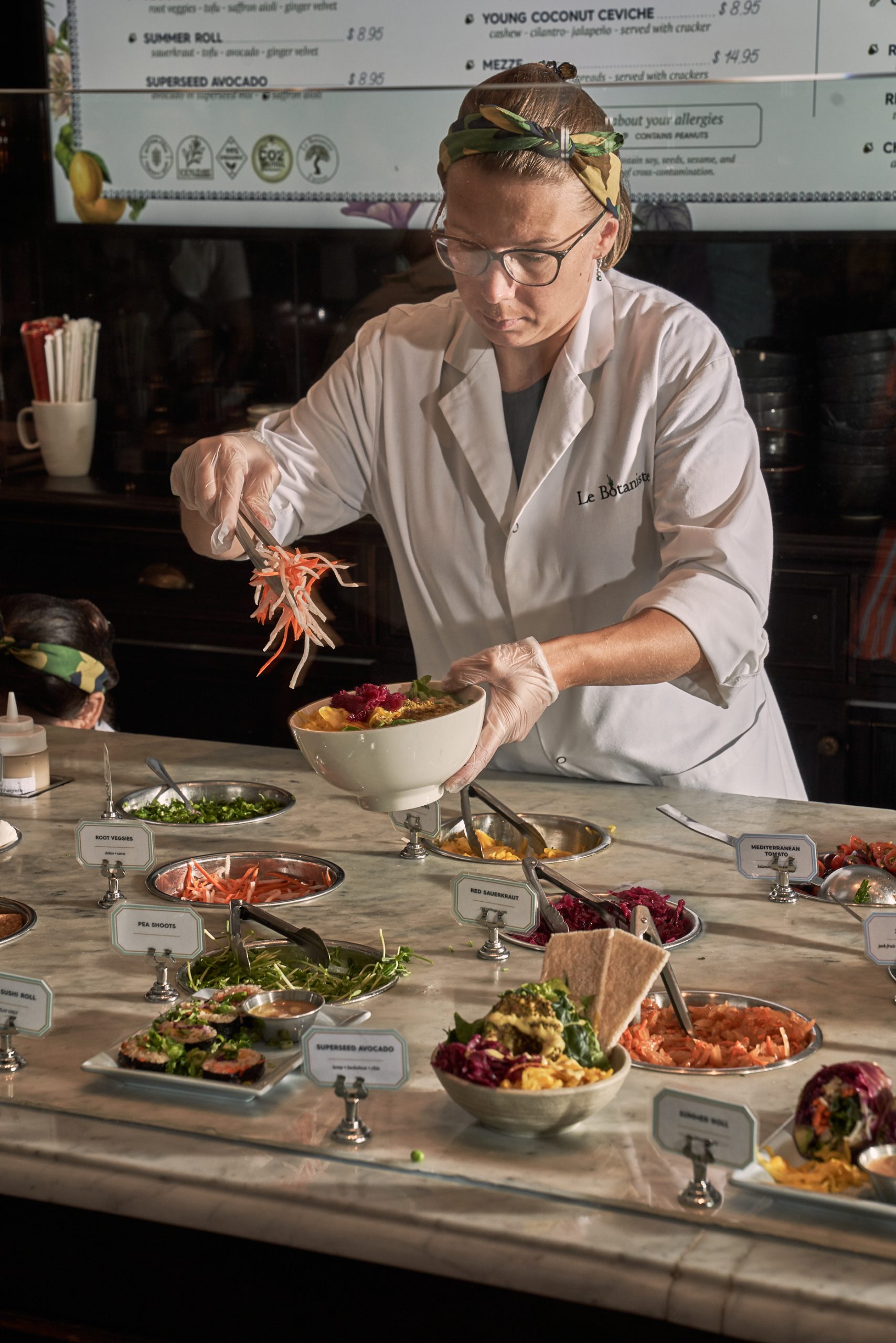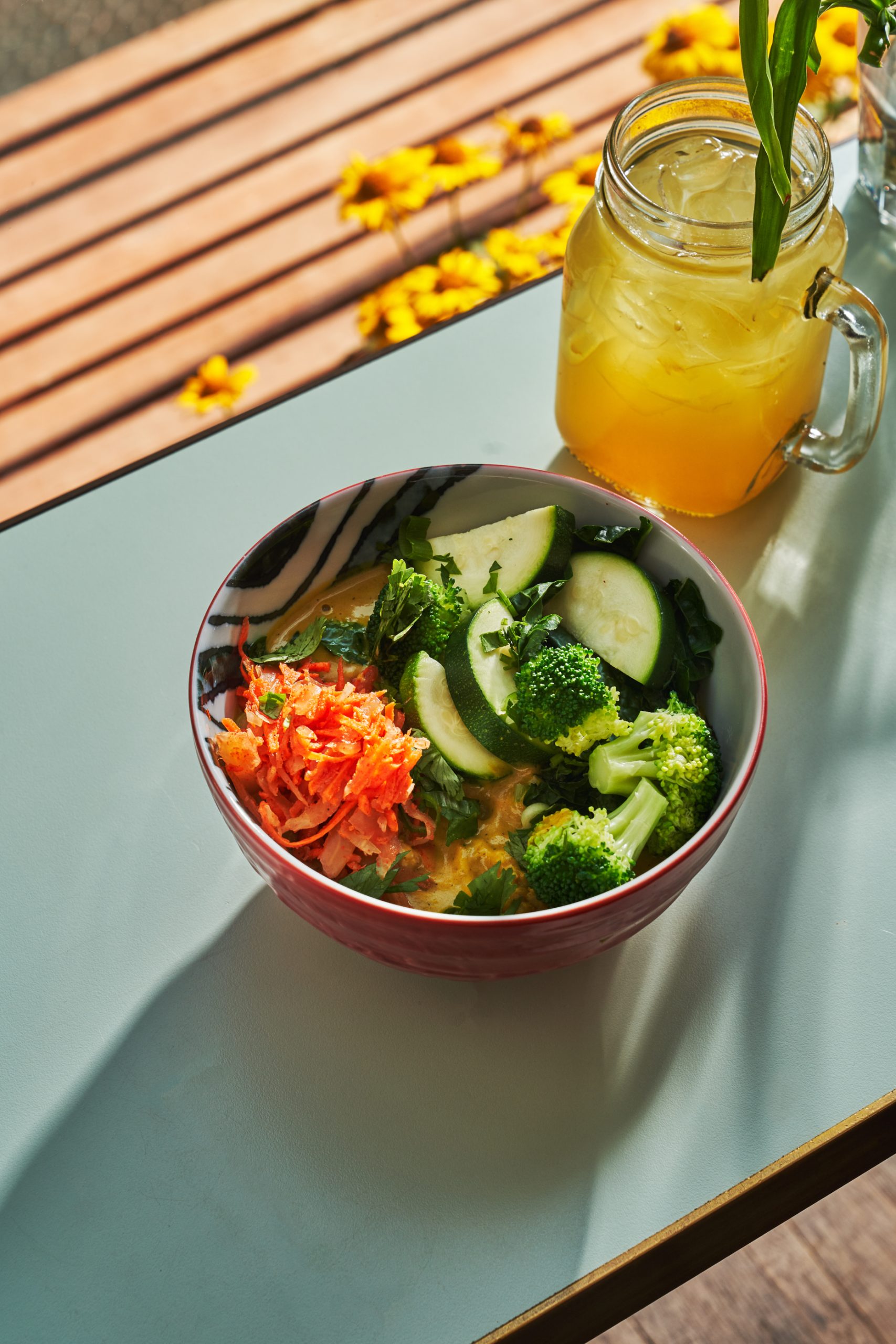 Our organic restaurant concept and the way we manage each location every day prove that it's not only possible to serve clean, healthy plant-based food and become certified CO2-neutral—it's actually possible to thrive doing it. 
Our guiding principles—from sourcing natural wines to making the USA's best vegan chili and serving on carbon-neutral, sustainably-made trays—make sense only if they benefit everyone in the long-term.
By finding even more ways to become more sustainable as a business, we hope to inspire and better our communities and the restaurant industry at large, serving as a catalyst for a greener world.
Representing the future of food
"We are bettering the world one bowl at the time — better for you, better for the planet" 
For us, the future of food is about influencing and changing eating habits to reflect the wellness and respect we wish to see in the world. It's about going back to basics: pure, fresh, recognizable, and accessible food we can easily trace to its origins (and that's also bright, colorful, enticing, and Instagrammable!) 
Whether we're flexitarians, vegetarians, vegans, or simply conscious consumers, we all know that eating organic food and putting more plants on our plates is good for health and wellness—not just for ourselves, but for the environment. 
Our 100% organic, 100% gluten-free friendly vegan dishes and natural wines make it easier to incorporate more vitamins and nutrients into your diet, and help keep you energized and healthy while doing right by the planet. For example:
Our Tibetan Mama bowl emits 43% less CO2 than the equivalent recipe with chicken

Our Chili Sin Carne bowl emits 87% less CO2 than the equivalent recipe with beef
Those are the kinds of numbers that inspire us to continue our holistic approach to sustainability. 

Le Botaniste's menu offers a selection of "prescription" bowls: freshly cooked plant-powered meals, and globally-inspired dishes: Spicy Chili Sin Carne, Tibetan Mama coconut curry and the surprising Pasta Bolo. All are served to stay in Japanese ceramic dishware or to go in eco-friendly packaging. We promote foods with healthy fats and that are high in nutrients, antioxidants, vitamins, and minerals, because the best "diet" you could ever start is one guided by how good the food makes you feel.
Each bowl starts with a base, like gluten-free grains or organic salad mix; a warm topping or chilled dip; fresh herbs and garnishes like probiotic-rich fermented vegetables, crunchy superseeds, and wholesome dressings. Try one of our creations or choose your own combination using our DIY cards. 
Discover our 100% plant-based, vegan menu here.
"Vino Therhappy" – the official Le Botaniste wine motto
What is "vino therhappy?" We're so glad you asked! Vino is Italian for wine, and "therhappy" is a play on the French word "terre" ("earth") and the English words "happy" and "therapy."Get it? Natural wine is Earth-happy therapy! We're proud to serve a curated selection of wines from around the world that are simply 100% organic fermented grape juice, and nothing else. We choose each for its unique flavor profile, and offer a rotating selection of up to ten outstanding bottles. These may vary from one restaurant to another—just one more reason to visit all our locations!